Summer Lightning feat. Flowers for Freya Kit (64.5"x80.5")
Quantity:
kit(s)

If we do not have the full amount that you ordered of this item:

Add to Cart

Kit Includes The Summer Lightning pattern and Flowers for Freya fabric for quilt top and binding.


Backing Not Included - requires 5 yards


About the Collection
"Flowers for Freya fabrics are based on feed sack prints and are perfect for creating items - bags, zippered puches, and of course quilts - that will lift your spirits and those of the people you live, making every day moments a little brighter. " - Linzee McCray

Additional Information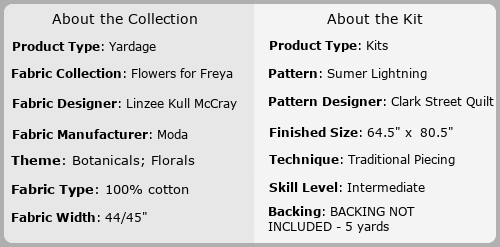 Shipping will be added upon check out. Please note that international shipping requires a quote from us.