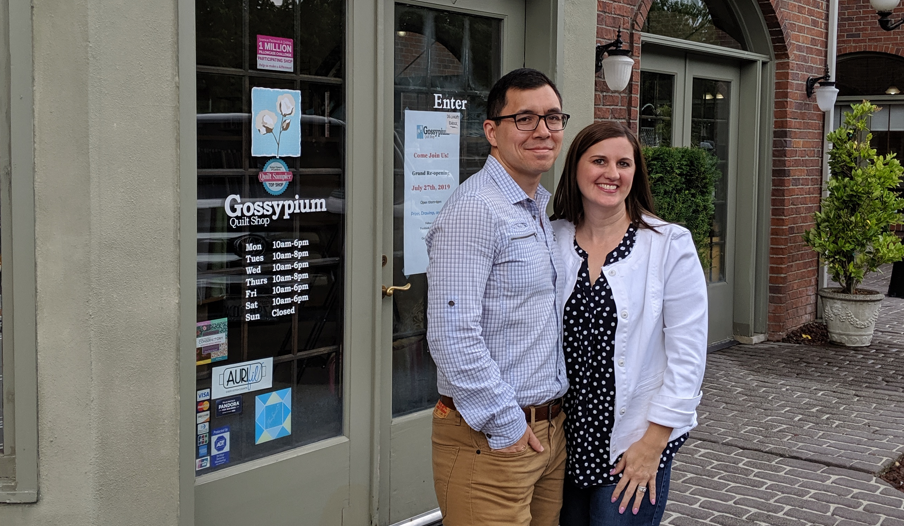 N

estled near the historic Gilman Village of Issaquah, WA, Gossypium has been part of the Seattle area since 2013. Gossypium quickly grew into one of the most popular Quilt Shops in the Seattle area, voted nationally as a

Top 10 Quilt Shop

by Better Homes and Gardens in 2018. LaNetta and Doug Fox purchased Gossypium in 2019 and plan to carry on the tradition of offering a wide range of fabric and great customer service that quilters have grown to love. Gossypium has and always will be built around being a local quilt shop that can assist quilters with their projects and teaching new quilters how to get started.


Netta's Story
Excited! Nervous! Guilty! Proud! These are words that best describe how I feel every single day as the owner of Gossypium. I am not one of those small shop owners that is going to tell you how quilting runs through my veins and it has been passed down from generation-to-generation. It's not :).

Before taking over Gossypium, I was a stay at home mom. An abundantly blessed mom of 2 boys, Tyce and Tate. Tyce is in college at Green River, while Tate is still working on potty training. That's right! Over 18 years of separation between my boys. I guess it's true, every small business owner has to be a little crazy :)
Being a mom and caring for kids defined me for most of my life, often working in schools and daycare. However, when I learned to quilt, I discovered a new sense of joy and relaxation in creating quilts with time carved out just for me. I found myself growing in creativity, confidence, and a feeling of belonging.
That's why I was heartbroken when Lynette said she was closing down Gossypium. I didn't want to lose something I loved. Something I know many of you loved too.
At the same time I felt nervous and guilty about considering this new adventure. For me, my family comes first! Doug and I had so many conversations about whether this was the right thing to do. Could I still be there for Tate and Tyce? Could I still volunteer at the church? Could we still make trips back home to Kansas to see our parents?
In the end, I knew I had to live what I preached to my kids. Live by faith and follow where you feel you are being led. Each day I get to spend with you and my staff is a blessing! I absolutely could not do it without them and your loving support. I have come to realize quilters are a special group. They are full of grace and eager to help each other.
I hope each person that comes to Gossypium feels the same way I do. Each project you feel supported by our team. Each project you discover a new part of yourself.
Who knows where this chapter is going to take me. I am still growing as a quilter and definitely as a business owner. Thank you for being patient. I am going to need it for awhile! Ok, maybe a long while :). But I hope you are as excited to see where it goes as I am and are as proud that a special place in our community is still standing strong!
When Netta said she wanted to take over Gossypium, I thought she was crazy. I knew absolutely nothing about quilting and we had never run a business. But! I knew the power of a quilt.
You see my passion lies in helping kids. I help lead our children's ministry at Eastridge Church in Issaquah and I love our mission of being a beacon of hope from the I-90 Corridor to the ends of the Earth. That's how I was introduced to Royal Family Kids Camp, a global organization driven to help the 400,000 kids in foster care by giving them 1 week to just be a kid again! No more abuse, no more wondering where am I going to sleep at night, or questioning why no one loves me.
I've been a volunteer at Royal Family Kids Camp in the Seattle area for the past 2 years. On the last night when you tuck your campers into bed, you give them a special gift, a quilt :). The quilt is meant to represent the love and warmth they can carry back with them to a place they probably don't want to go. Remind them of the fish they caught, swimming in the lake, or songs they sang.
That's why I told Netta let's go for it! Because I knew the power of a quilt to spread love. And if we could play a small role in our community of helping spread that love, then seems like a pretty good mission in life to me.
Thank you!
We want to personally thank everyone that has supported Gossypium and have continued to support us as we enter a new chapter. The outpouring of love and support has made all the difference! We love being a small part of this community and getting to know many of you. Here's to many more years of success!